We have residential gas safety certificate professionals, and these gas safe registered engineers are qualified and experienced in all aspects of residential gas testing, enabling them to test boilers, cookers and certify all type of gas appliances and associated pipeworks operate in residential properties.
Gas Safety Certificate From £30 ( Meter Check Only)

A Gas Safety Certificate is a legal requirement when letting out a property and this document need to be produced by a Gas Safe registered engineer. The gas safety check that is undertaken supplies information on the make, model and state of all the appliances in the property. The installation is also inspected visually. The gas meter, bonding, pipework, flues, and appliances are thoroughly checked for stability and safety. The gas safety certificate is valid for one year and for that reason must be done every year.
Call us to book an engineer on

0207 127 5128

.
We have a team of local gas engineers who can carry out your gas safety checks in London and the surrounding areas with little fuss or disruption to you and your tenants life. If there are any defects identified during the gas safety inspection, we will assist you in the remedial work required and can provide you with a free no obligation quotation to guarantee your property fulfills all safety and legal requirements. As soon as the problems are fixed our engineer will then issue you and your tenant with the gas safety certificate.
Our Price List (Start From):
( Please note costs may vary depending on locations and appliances ).
£ 30 for a Meter Safety Certificate.
Please check our current offer bellow for a complete gas safety certificate:
Gas Certificates -CP12– 1 Appliance From £ 55 ( Offer:

A

Complete certificate including meter safety inspection from £60 ).
Gas Certificates (CP12)– 2 Appliances From £ 60 (
Offer:

A Complete certificate including meter safety inspection from £65 ).
Gas Certificates (CP12)– 3 Appliances From £ 70 ( Offer:

A

Complete certificate including meter safety inspection from £75 ).
Additional Gas Appliance From £10.

Boiler Services start from £90 (Please call us for details).
Popular Deals:

Boiler Service and Gas Safety Certificate From £ 105 (Boiler services including 2 appliances and meter safety check).
Our all prices are subject to VAT.
Commercial Gas Certificate Start From £ 130, Please visit our page: Commercial Gas Certificate.
Gas Services:
Cooker installations From £80.
Gas Leak Repair works From £85 pet hour.
Gas Hob Installations with gas safety certificate from £90.
Power Flush from £280.
Inspection Hatches (supply and fit From £95 each).
Disconnect hob or fireplace + cp12 from £ 85.

UK Gas Safety Certificate Frequently Asked Question:
What is a gas safety certificate?
A gas safety certificate is a record issued by a registered engineer. It includes a list of the different checks and tests carried out during a gas installation, service or repair service. It is not always a legal requirement for an engineer to offer a documentation after working on gas appliances, but many of them will do even when it's not required.
Do I require a gas safety certificate?
If you are a property owner and letting your property then yes. You are required by law to have a gas safety check each year and a gas safety certificate issued by a registered Gas engineer.
How much doses a gas safety certificate cost?
The cost of a gas certificate depe
nding on locations, type and the number of gas appliances you have. There is always a small charge for additional appliances. Discounts are given for landlords have multiple properties or letting agents who can offer regular volume work.
Why is a gas safety certificate important?
A gas safety certificate is your proof that your appliances have been checked for safety. From a legal standpoint it is essential to keep records of important checks like this– should anything go wrong with an appliance and a gas system, you will have evidence that you were ensured it's safety and performance. Most importantly, it's your proof that your gas appliances are safe to use.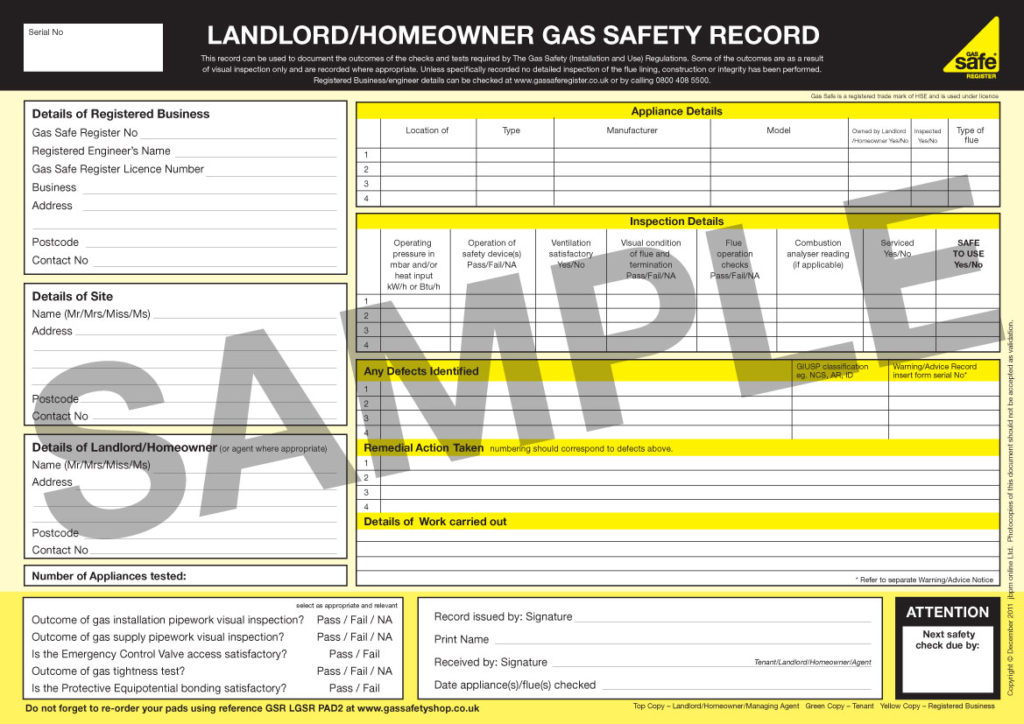 Landlord's responsibilities:
UK landlords are lawfully needed to have gas works, and a gas safety certificates completed and signed in full.
If a landlord fails to satisfy the legal requirements for gas safety, they are responsible for serious charges and criminal prosecution. If a tenant is injured due to a failure on the landlord's part to secure a correct gas safety certificate then the criminal court can enforce extensive fines, while if a death occurs as a result of landlord negligence through gas safety, the landlord can be charged with manslaughter. A majority of insurance provider also specify that if there is not a current gas safety certificate for a residential rental property, then any insurance plan that you hold for the property will be considered invalid. For these reasons it is vital making sure that you hold a current gas safety certificate for all your rental properties.
You should keep a record of each gas safety inspection for 2 years. You must supply the annual gas safety record or a gas safety certificate within 28 days of the check being performed to existing tenants or new tenants before they move in.
Top Tips:.
When a Gas Safe engineer inspect a property, they will carry out a gas safety check and later generate a gas safety certificate or gas safety Record. The Gas Safe engineer will produce a standard gas safety certificate which can be recognizable with a Gas Safe Register logo. The Gas Certificate will have the Engineers registration number on it. The Gas Safety Certificate will also contain details such as: Property Address; all gas appliances in the property and where they are connected and installed; the date of the safety inspection; next inspection date, any defects to the gas supply, appliances, and any necessary remedial action.
If the gas engineer identifies any problems with the gas appliances, the landlord needs to get an authorized gas engineer to perform the works required. The gas engineer has the power to seal off any faulty appliances or gas supply to the property with your permission.
If your appliance has been switched off by an engineer, it is because it was risky and should not be used. No matter how aggravating the circumstance is such action assists to ensure your safety. If a gas appliance has been disconnected then landlord must supply tenant with alternative emergency heating, for more details on this you can contact local authority while arranging for usual remedial work by a Gas Safe registered engineer.
If a room contains one or more of the gas appliances and was used as a bedroom before 1998 landlord will have to do a risk assessment to determine if it can still be used as a bedroom. Landlord needs to organize an engineer to check it.
Defect categories:
Gas engineers use the GIUSP, as guidance to classify the dangerous gas situation. There are 2 categories:
"Immediate Danger (ID)": An 'Immediate Danger (ID)' installation is one which, if operated or left connected to a gas supply, is considered to be an immediate threat to life or property.
"At Risk": An 'At Risk' installation is where one or more identified faults are present which might constitute a threat to life or property without further faults developing.
Whether you are a homeowner, landlord, or tenant, you should have a Gas Safety Certificate issued by registered engineer. These show that your gas appliance or system has been properly install and is running safely. Cenultra can assess the safety of your system and appliances, issue certificates, and advice on any steps you need to consider to ensure your safety.
Our gas engineer will assess your appliance to ensure you remain compliant with current legislations, plus you receive annual reminders and benefit from online access to your Gas Safety Certificate. Call Cenultra on
0207 127 5128.