Do you need to learn what an electrical safety certificate is? Well, you remain in the ideal location. Our expert described here about An electrical safety certificate.
What is an electrical safety certificate?
An electrical safety certificate is officially called an Electrical Installation Condition Report (Formally referred to as a Periodic Inspection Certificate for an Electrical Installation). So it's a report or record containing of detailed technical data and information about the electrical wiring in your property.
We can say an electrical safety certificate is similar to a vehicle's MOT, an Electrical Installation Condition Report shows the condition of your electrical wiring and gives you a clear, concise, safety resolution (Satisfactory or Unsatisfactory) along with a summary of the general condition. In addition, the report also reveals any problems identified and tells you how dangerous they may be.
What does an Electrical safety certificate contain? But not restricted to:
Full Details of the client or person ordering the work
Reason for producing this report
Details of the electrical installation which is the subject of this report
Descriptions of premises ( eg residential or commercial)
Estimated age of the wiring system
Date of the last inspection ( If known)
Extent and limitations of inspection and testing
Summary of the condition of the installation ( e.g., satisfactory or unsatisfactory)
Alternative source of supply details
Further recommendations
Engineer's or company details ( name, address and signatures)
Schedules of inspection and test results.
Earthing arrangements
Details of Nature supply parameters
Particulars of installation
Details of earthing conductors
Information of Main switch
List of observations
Details of Distribution board
Inspection schedule for a distribution board installation
List of circuits and/or installed equipment are vulnerable to damage when testing and /or remarks.
Condition report guidance for recipients.
Landlords and homeowners Electrical Safety check includes, but not limited to:
√ Continuity of protective conductors including main and supplementary equipotential bonding.
√ Continuity of ring final circuit conductors
√ Insulation Resistance
√ Polarity
√ Earth electrode resistance if an earth electrode is used
√ Earth fault loop impedance
√ Check of phase sequence ( If applicable )
√ Functional testing
√ Verification of voltage drop
√ Correct operation of switches and isolators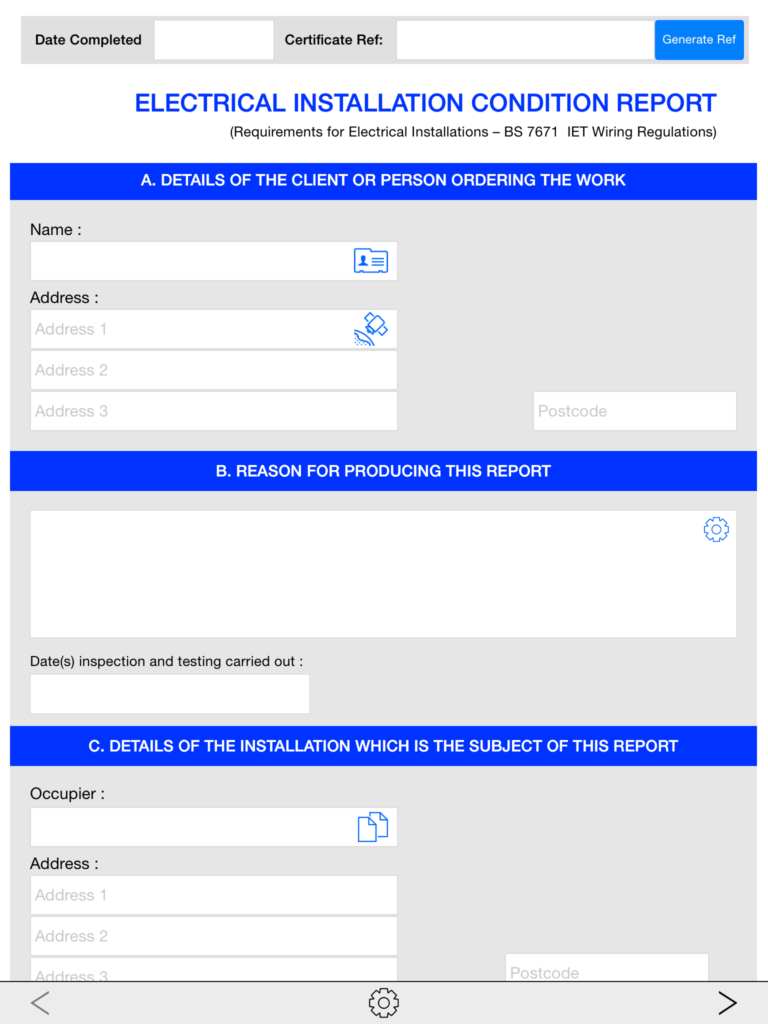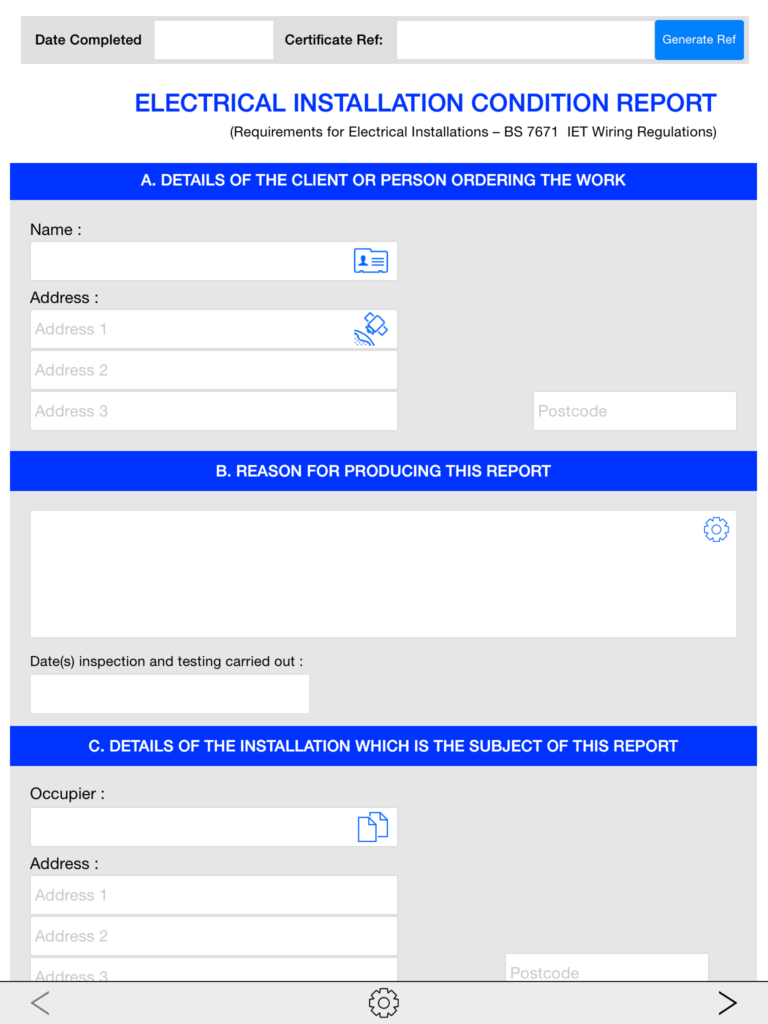 Landlords responsibilities:
It is the duty of every landlord to make sure that the home that they are renting is suitable for the purpose for which it is expected. This includes the fixed electrical wiring.
The electrical reports are needed at each change of tenancy. This is to validate that the previous occupant has not damaged or changed the electrical system in any way.
The current regulations of the IEE electrical wiring regulations BS 7671. It states that every electrical system will be assessed before being brought into service and have an electrical safety certificate issued.
If you are unfortunate enough to have a problem of an electrical nature while your property is being rented, you may be liable. It will depend on you to show that the electrical installation was fit for service at the time of renting. Your up to date electrical certificate will ensure that you can do this.
Homeowner electrical inspections:
Electrical testing is often neglected by homeowners and landlords alike– despite the fact that domestic electrical appliances are often more inexpensively produced and more regularly used than their commercial counterparts. In fact, dangerous electrical installations cause more than 700 severe accidents and 12000 fires in British Property every year.
Hope this article helped you to know about an electrical safety certificate. If you like our article what an electrical safety certificate is, why not check our article for the electrical certificate requirements.