The Gas Safety (Installation and Use) Regulations 1998 set out the responsibilities of landlords regarding gas appliances, and one of these responsibilities is to have an annual Gas Safety Check on every appliance or flue and provide tenants with a copy of the Gas Safety Certificate. But do you need to get a new Gas Safety Certificate every time there is a change of tenant? First of all, let's look at what your responsibilities are and what a Gas Safety Check involves.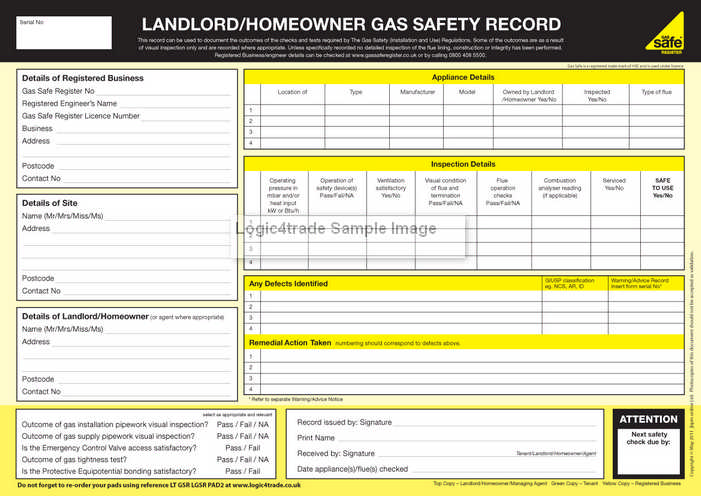 What are my responsibilities?
Landlords are responsible for ensuring that all pipework, appliances and flues are properly maintained, and appliances are serviced as recommended in the manufacturer's instructions (or annually if these are not available). Appliances provided by the tenant are not the responsibility of the landlord (unless they are left when the tenant moves out – more on this later) but the related pipework does still need to be maintained by the landlord.
The Gas Safety Check is another landlord responsibility and must be carried out by a Gas Safe registered engineer every 12 months on every appliance or flue provided by the landlord. A record of the Gas Safety Check (the Certificate) should be given to tenants within 28 days, or to a new tenant before they move in, and the landlord should keep a copy for two years.
What does a Gas Safety Check involve?
Gas Safety Checks are carried out by Gas Safe registered engineers and include the following:
Checking appliances for gas tightness;
Testing of standing and working pressure where test points are available;
Checking the burner pressure and gas rate against the manufacturer's data plate;
Checking the provision of necessary ventilation;
Testing of flue flow to ensure all products of combustion are removed;
Checking that flame failure devices are operating satisfactorily;
Checking the physical stability, presence and effectiveness of stability brackets where appropriate; and
Investigating and reporting on any evidence of unsafe operation.
All of these checks must be completed before a Gas Safety Certificate can be issued.
New Tenants
There is no legal obligation for you to obtain a new Gas Safety Certificate before a new tenant moves in provided it is less than 12 months since the last Gas Safety Check and you have a copy of the Certificate to show this. However, you do need to inspect all appliances and flues between tenants, as the former tenant may have damaged, tampered or unsafely removed appliances. If you suspect this is the case, a new Gas Safety Check should be sought. Also, if a tenant has left a gas appliance belonging to them in the property, you must either arrange for it to be removed safely or assume responsibility for maintenance and checks. In this situation a Gas Safety Check would be required prior to the new tenant moving in.
The laws around gas safety are there to keep your tenants safe. If you are in any doubt as to whether your gas appliances are functioning properly, it is best to get this checked by a Gas Safe registered engineer before any new tenancy begins. This could save you future problems if anything does go wrong – and, more importantly, will protect your new tenants. For more guidance on Gas Safety Certificates, the Gas Safe Register and Health and Safety Executive both provide useful guides.