On 1 October 2015, The Smoke and Carbon Monoxide Alarm (England) Regulations 2015 came into force. This new law requires landlords to install smoke alarms on every storey of a rented property, and to ensure any room in a rented house which contains a solid fuel burning appliance is fitted with a carbon monoxide alarm. Landlords are also responsible for checking that these alarms are in full working order at the beginning of each new tenancy. This article details what you need to know about this new legislation as a private landlord.
What type of alarms should I install, and where?
The law does not stipulate any specific type of alarm, or where specifically they should be placed, only that smoke and carbon monoxide alarms should be fitted as above. There are a variety of options for smoke alarms which suit properties of different sizes and occupancies, so it is important to research what the best option is for your property. The Fire Service offers guidance on best practice on their website. General advice is that smoke alarms should be fitted to the ceiling in a circulation space, such as a hall or landing. Heat detectors cannot be fitted in lieu of smoke alarms.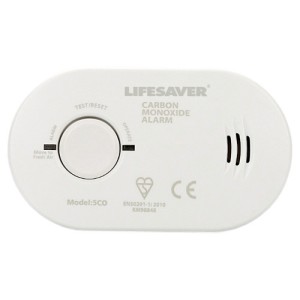 Carbon monoxide (CO) alarms are required by law to be fitted in any room with a solid fuel burning appliance, such as a coal fire or wood burning stove. While rooms containing gas appliances are not legally required to have an alarm, as these can also emit CO it is a sensible and conscientious option to fit one for the safety of your tenants. Generally speaking, CO alarms should be installed on a wall or shelf at head height, 1 to 3 metres from the appliance.
Who is responsible for testing and maintaining the alarms?
As landlord, you are responsible for testing the alarms on the first day of each new tenancy. You may wish to ask your new tenant to sign a document stating that they have witnessed the alarms being tested, for instance as part of an inventory. While the tenancy is in place, it is the tenant's responsibility to check the alarms are in full working order, and it is advised that they do so once a month. If an alarm is found to be faulty, the tenant should contact the landlord, who is responsible for replacing batteries or the alarm if necessary. If there is any problem with gaining access to the property to carry out remedial work, you should advise the tenant that this is a legal requirement and, of course, important to their own safety.
Are there any exemptions to the new regulations?
Generally speaking, any privately rented property should comply with the new regulations as of October 2015, regardless of whether or not an ongoing tenancy is in progress. There are a few exemptions – for instance, long leases, live-in landlords and social housing – but if you think you may be exempt you should check the full legislation.
It is strongly recommended that you read the new regulations in full. The Department for Communities and Local Government has also produced a helpful FAQ document which can be accessed here.
You can call Cenultra to install Carbon Monoxide Alarm.
Thank you.